Executive Director
BIOGRAPHICAL INFORMATION
Information about the staff
Executive Director-Dr. Miguel Lopez
Dr. Lopez has over 35 years of experience with the Aging Community/ Social Service field, as a Administrator and Outreach Project Director with Multicultural clients in several states.

Dr. Lopez's expertise is mainly in Social Interaction/ Behavioral Studies and Urban Development field, his experience gives him a clear understanding of the economically disadvantaged.

As the current Executive Director of The Life Project – Training & Development Programs, he is a source of help, guidance and support for minorities and people in need of assistance with a wide variety of health, nutrition and housing issues.
He has held a number of Social Service positions including Director of Catholic Social Services-New Jersey, Director of INS Amnesty Programs and Director of Minority Services.

He was born in Cuba and Studied

in Madrid, New York and New Jersey.

His PH.D's include Psychology, Philosophy and a

Doctor Honoris Causa in American Ethnic Heritage from the Organization of American States.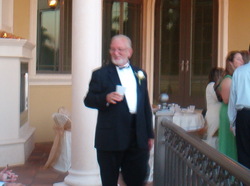 Under construction
My Contact Information
Links to Other Sites